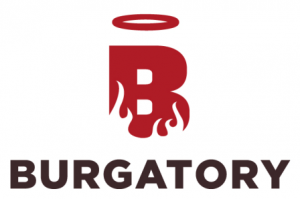 Written By: Jennifer Stanley
Burgatory was great! It is much better than Brgr, which I also tried recently. We went yesterday evening – I know it's popular right now and I wanted to avoid the wait, we still waited about 35 minutes and it was PACKED.
I ordered sangria because all of their drinks are made with fresh ingredients. It could have been good, but it was watered down (I'm in law school – maybe I just drink too much.) Anyway, my fiancé had the caramel pretzel milkshake. It was sweet, salty, and amazing – probably the best milkshake I have ever had. I had shake-envy and quickly ordered the smore milkshake (we agree to never order the same things so we can try more things), it was also one of the best milkshakes I have ever had, but significantly sweeter than my fiancé's choice. The milkshakes really are heavenly, as described – but filling. They use their own homemade vanilla bean ice cream.
We ordered sriracha wings as an appetizer. I make my own sriracha wings and I made them really hot, but these were not really hot at all – they were kind of sweet and sour with scallions and sesame seeds. Really tasty, but probably wouldn't order them again.
The best part about Burgatory is being able to build your own burger – you just check off what you want on a little sheet of paper. Their meat is organic and hormone free, which is especially appealing to me. You can get also get crab, a veggie burger, sausage, chicken, or bison. I chose peppercorn crusted beef on a brioche bun with horseradish cheddar, cabernet sauce, and mushrooms (basically their Morty's steakhouse burger minus the onions and with mushrooms.) It was phenomenal – the burger was nicely sized, it wasn't disgustingly greasy, the flavors were great (especially loved the peppercorn crust), the bun was fresh – easily one of the best burgers I've ever had in a restaurant. My fiancé had bison with an egg and I'm not sure what else, but he said "mine is better than yours" and went back to eating.
Burgers are served with russet and sweet potato chips ($1 extra for fries), which were tasty and appreciated because there is no way I could have eaten fries.
The service was a little slow, but it really was packed – so I didn't really mind.
Hope you give Burgatory a try and enjoy it, just be prepared to wait – they will text you when your table is ready though.