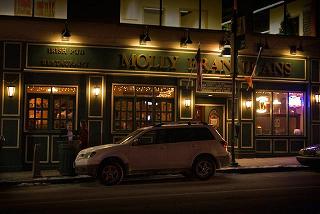 I love pubs. If your establishment has the word "pub" in the title of it, chances are I will visit it at least once. It makes me think of a cozy place to grab a drink with a colorful crowd, and let your worries wash away. I picture the old world bars of Ireland, Scotland and England, and it makes me long to visit those areas. But in the meantime, it's nice to find a pub close to home that will do the trick. The closest pub to where I live is Molly Brannigans, a Traditional Irish Pub located in Uptown Mt. Lebanon. When you enter Molly's, you immediately feel warm (especially on cold December nights like when I went to visit). From the rich wood textures throughout, to the stone, brick and warm-toned colors… it just feels like an Irish Pub should. You can tell they paid attention to details when you see the Irish blessings written on the walls, and all the little knick-knacks (also known as bric-a-brac) scattered throughout. They even have a cozy area with a fireplace to relax and laugh with friends.
On the night we went, the restaurant was about half-full. There was a Pittsburgh Penguins game starting in about an hour, so it was slowly filling up as we ate our dinner. There is a dining area along the left side as you walk in, and a bar with room for 12 along the right. There is a large room in the back that I've eaten in before, but it appeared to be filled with a work Christmas party of some kind. We were immediately shown to a table in the raised section of the dining area by a friendly hostess.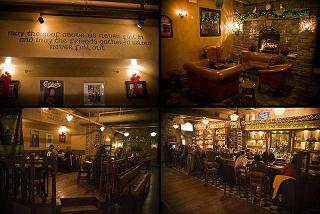 Now, the first order of business when entering any Irish pub is to get yourself a beer. And there's no Irish beer more famous than good ol' Guinness. I'm a fan of Guinness and have enjoyed plenty of them over the years. A tradition that I'm fond of is the 'half and half', which is a blend of a pale ale and a dark beer. I ordered myself one known as the 'Dark Side of the Moon' which is a half glass of Blue Moon, and half Guinness ($4 for a 16 oz). If poured correctly over an upside-down spoon, the Guinness will sit on top of the other beer because it's relative density is less than that of the other beers. This results in a very interesting and unique-looking beer.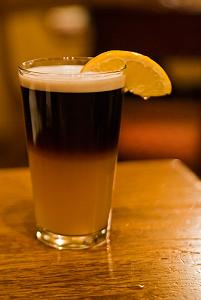 Other favorites of this method are the original Black and Tan (Guinness & Bass), Half and Half (Guinness & Harp), Black Smith (Guinness & Smithwick's), and my second beer of the evening – the Dirty Ol' Englishman (Guinness & Boddingtons). If you want to experience the traditional Irish pub, but don't care for Guinness or the 'half and half' drinks, they have a decent selection of craft beers and imports. And not to be overlooked… there is also an incredible selection of Scotch and Whiskey, as you'd expect from an Irish pub.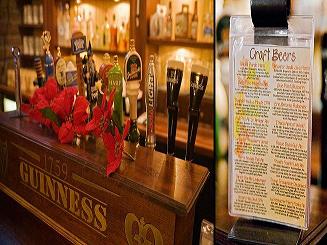 Once you have your choice of beer figured out, it's time for the food. They have an excellent selection of traditional Irish fare including Bangers & Mash (fire-grilled sausages and red skin mashed potatoes) and the St. James Guinness Stew. I went for my go-to Irish favorite – the Shepherd's Pie ($11.99). It was exactly what I was hoping for… delicious comfort food that is perfect for this time of the year.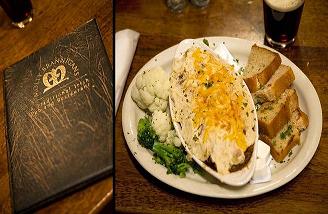 My wife Monica, being the vegetarian that she is, ordered the Field O' Greens ($7.00) – a mixed salad with candied walnuts, cranberries, apple slices and topped with sweet potato fries. She got the raspberry vinaigrette dressing on the side and described her meal as "frickin' amazing!" She had also ordered a side appetizer of potato pancakes, but when they brought out all of our food, they forget them. After getting our waitress' attention and pointing it out to her, she apologized and quickly brought them out explaining that they were now on the house.  Nice!  The service was very speedy and pleasant. We weren't too concerned about the missing appetizer, but they went above and beyond to make sure things were taken care of.  Much appreciated.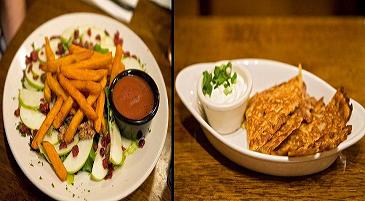 Overall, Molly Brannigans is a nice, cozy pub that I recommend trying out. Depending on if there are sporting events playing will determine the size and loudness of the crowd. This most recent visit was quiet and calm. But if you happen to bump into me there on St. Patty's Day, expect a completely different atmosphere!