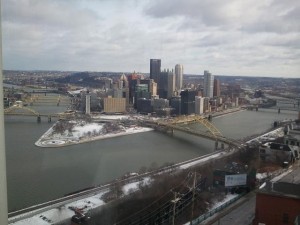 I've lived in Mount Washington since August, and until the Monday after Christmas, I still hadn't spent any time at the fancy restaurants on Grandview.  Finally, I made it a point to visit Monterey Bay on one of my last vacation days of the year.  Ryan and I visited the renowned seafood restaurant for lunch on a Monday afternoon.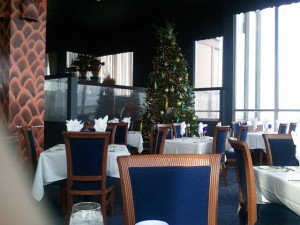 Monterey Bay is located up-up-up on top of a tall apartment building, and to get to the restaurant, you must endure a long ride in an elevator made partially of glass.  I know that this view is what makes the restaurant famous, and if I could stand to turn around I'm sure I'd have loved it.  Once I had my footing inside the restaurant, however, I loved to stare out into the city.  My date and I were seated right next to a row of HUGE windows.  Even on a dreary December day, Pittsburgh looks magnificent from Monterey Bay!  It's so neat to be able to see from McKees Rocks all the way to Oakland in one blink. 
Of course I had to "flex" for this trip to Monterey Bay, and I temporarily shelved my vegetarian status.  I had been craving shrimp cocktail, and I was looking forward to it at Monterey Bay!  It arrived (and yes, I thought of Beetlejuice), and the presentation was absolutely gorgeous!  The Jumbo Shrimp were arranged neatly in a glass with zesty cocktail sauce and a wedge of lemon literally impaled by a large sprig of rosemary.  A quick squeeze of herby citrus tasted so refreshing on the chilled shrimp.  Craving quelled!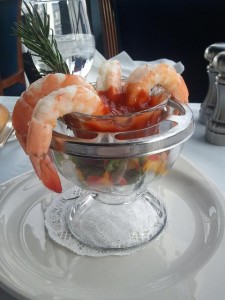 Our next course featured house salads dressed in sweet passionfruit vinaigrette.  Passionfruit!  I dare say it's the new pomegranate (for the next five minutes).  Right about then, I took note of the amazing service at Monterey Bay.  Our server, Kyle, actually took his time while making some suggestions for our entrees.  Can you imagine?  He listened to us when we described what we liked, and he made very specific recommendations about the meals.  Very helpful and kind.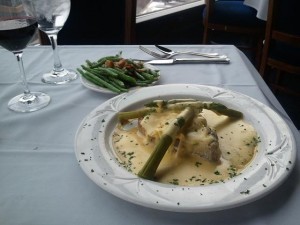 Ryan chose the Swordfish (West Coast) Oscar-style, that is, prepared with crabmeat & hollandaise sauce with asparagus, and accompanied by his choice of Green Bean Almondine.  Pour boite, he chose the Louis Martini, Cabernet Sauvingnon, Napa, 2004.  He enjoyed his grilled swordfish, and the tasty combination of fresh lump crabmeat and creamy hollandaise.  He loved the large stalks of perfectly cooked asparagus which were artfully arranged on top of the swordfish.  I was a little bit jealous…until I saw my Chilean Sea Bass.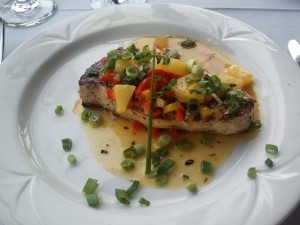 Oh!  The colors!  The beautiful, vibrant colors!  Bright, juicy pineapple, deep green onions, and perfect red and yellow peppers…the dish inspired all my senses!  I was no longer looking out at the grey clouds and rolling hills of Pittsburgh.  I was back on the beaches of Ocho Rios, with the sun in my eyes and sand in my hair!  Oh, wait.  No, I was still in Pittsburgh.  Seriously, this delicious jerk preparation tasted better than anything I had eaten during a vacation in the actual Caribbean!  
I had also chosen the Green Bean Almondine as my side dish, and for my wine, I chose a glass of the 2007 Murphy Goode "the fume" Sauvignon Blanc.  I thought it would be a nice fruity match for my spicy jerk Chilean Sea Bass.  As I was about halfway done, I got very sad that I would only get to eat this meal at Monterey Bay, and not, say every evening at my home.  So perfect.
I would like to thank Monterey Bay's Chef Joe Shandor, for coming out to our table, so we could thank him in person.  Chef Shandor is obviously very talented, and he appeared quite clean-cut and even soft-spoken.  He seemed genuinely happy that we were so ecstatic over our meals, which made the experience that much better.  It was just a really satisfying meal!