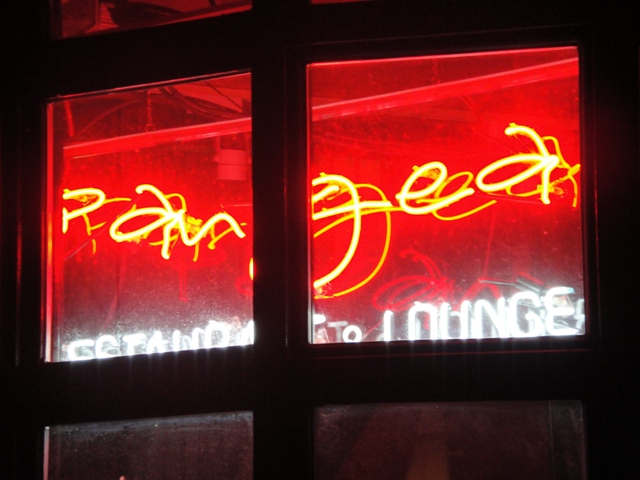 It's not easy to find exceptional food when you're dining out, believe me, I'm constantly trying.  Well, I may have found a restaurant that has it all: great food, a pleasant ambiance, good drinks, and good service…well, three out of four isn't bad.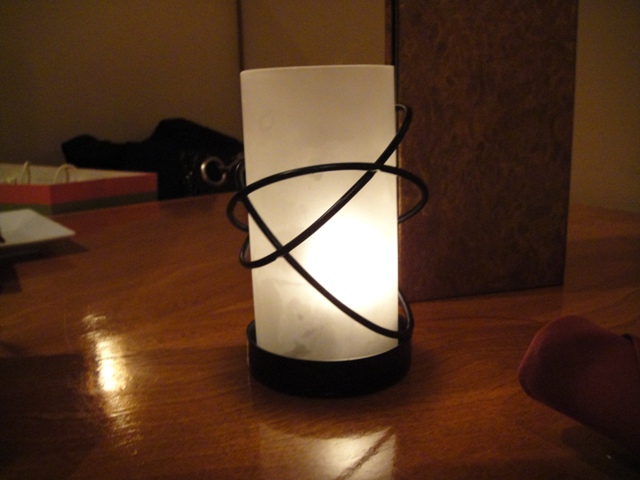 We arrived at Pangea in Shadyside at 7pm on a Saturday night.  There were a plethora of seats available; that made us nervous.  Its peak hour, why weren't there more patrons here?  We were shown to a table, and our drink orders were taken.  My dinner mate had the house Cabernet; it was sweet, and peachy with a fruit bouquet-perfect.  Unfortunately, we didn't ask what the house-brand was… sorry.  As we looked over our menus, our server arrived with some warm bread and butter.  The doughy concoction was sweet and extra crusty; exceptional.  The butter was a light red; it turned out to be roasted red pepper butter, and it went very well with the bread.  We asked our waitress where the bread was purchased and she said, "We make all of our bread in-house."  Impressive.  After devouring a full basket of bread, and all of the flavorful butter, we ordered two salads- one was a plain mixed greens salad with toasted croutons and house vinaigrette, and the other was the warm brie and strawberry salad.  My dinner guest described the house salad as "average" while I ranted about mine….the brie was lightly melted over the greens with toasted almonds and macerated strawberries; a great combination.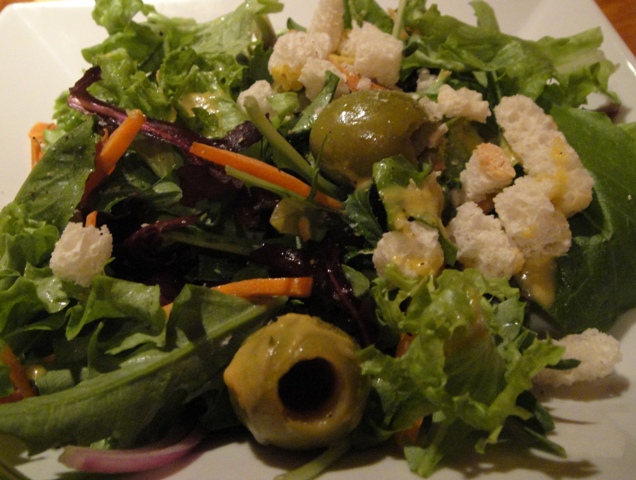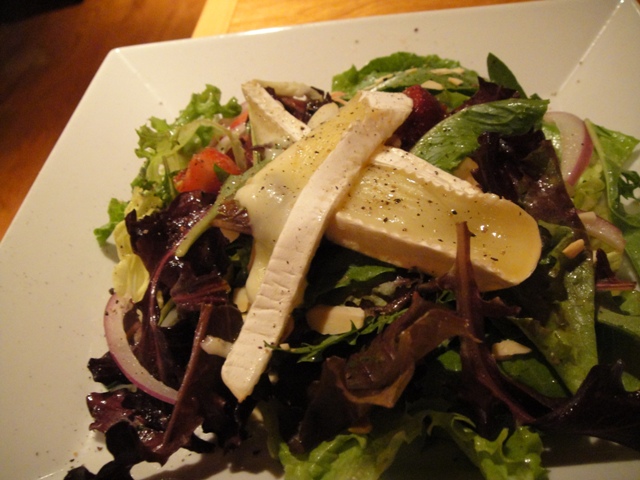 The dinner choices on the menu looked good, but we wanted to know what the specials were.  We asked our waitress if they were offering any that evening and she said, "We don't have any specials tonight."  Seriously.  I asked if the chef was there, and she said, "Nope."  So, it's 7pm, and the chef isn't there… peculiar.  After a few minutes she came back to our table and told us that yes, there was a special after all; lobster stuffed halibut.  I like halibut, but chose the grain mustard brushed wild Colombian river king salmon, cooked medium please.  My friend ordered the maple leaf farms duck, au poivre (with pepper).  A few minutes before our food was delivered, our waitress showed up with a HUGE steel knife, presumably for the duck.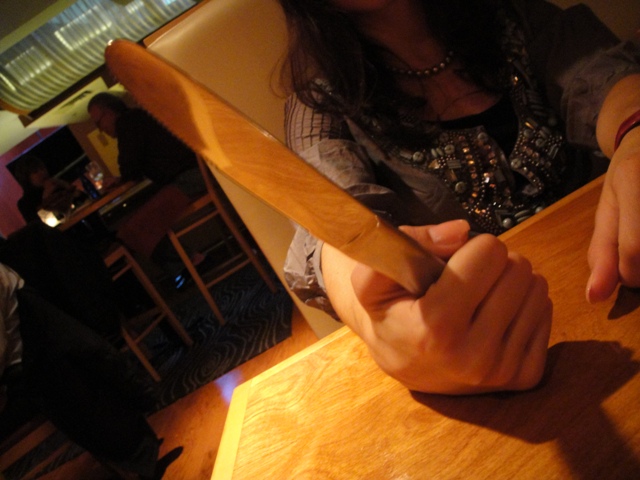 Our meals arrived 25 minutes after we placed our order, and were delivered by the server assistant/bus-boy.  My salmon was cooked perfectly; a little pink on the inside (most good restaurants take temperatures on fish).  The salmon was topped with melted leeks.  Now, I'm not sure how these leeks were made, but they were miraculously flavorful.  The salmon was topped with spicy grain mustard that had some heat, but was also on the sweet side.  The dandelion greens were bitter; a perfect contrast to the sweetness of the fish and mustard sauce.  The roasted pommes gaurettes (fried potatoes cut on a mandolin, then fried) soaked up the excess brine from the dandelion greens.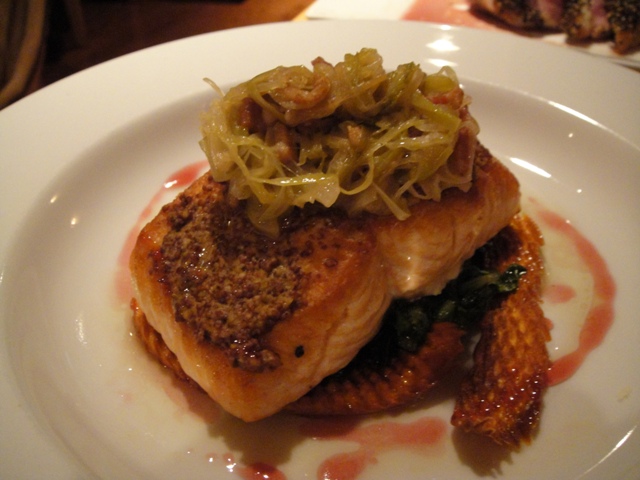 The duck was on the rare side (it was ordered medium), and was served with fresh herb risotto, rhubarb and black cherry conserve, and fava beans.  The duck was moist and naturally sweet, and the preserves made for a perfect match.  The thick pepper layer was a bit much, and had to be cut off.  The risotto was creamy and flavorful, with fresh herbs, and more importantly, perfectly cooked.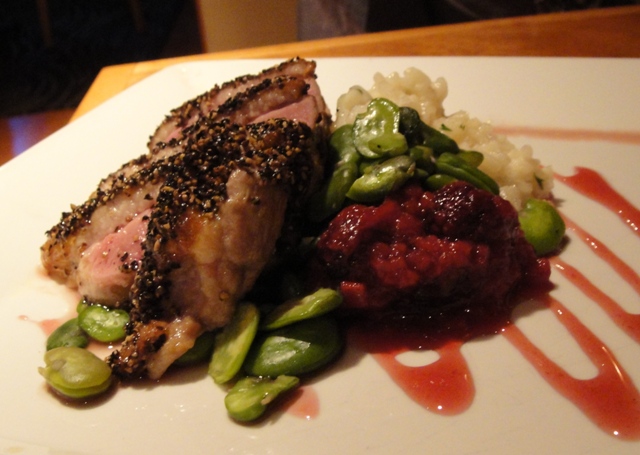 All in all, our dinners were exceptional.  At the conclusion of our dinner, we noticed that our server was conspicuously absent.  As a matter of fact, we hadn't seen her in over 40 minutes.  Bummer.
By the time we were ready to leave, Pangea had filled with hungry clientele.  We were able to catch a glimpse of other dishes that were being served, and they all looked extraordinary.  Can I recommend Pangea?  Absolutely; it serves some of the best food I've had had in the city.
Pangea Shadyside
www.pangea-shadyside.com
736 Bellefonte Street Pittsburgh, PA 15232 (412) 621-3152