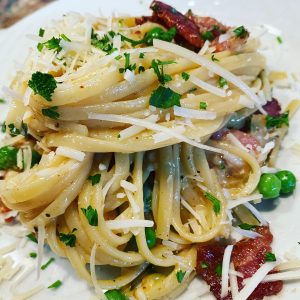 Carbonara is a rich Italian pasta dish from Rome made with egg,  shredded hard cheese, cured pork, and black pepper. The dish arrived at its modern form, with its current name, in the middle of the 20th century. The cheese is usually Pecorino Romano, Parmigiano-Reggiano, or a combination of the two.  The technique when making this dish is important, as it makes or breaks the end result.  Traditionally, Pasta Carbonara is made with Guanciali (cured cheek of pork) but a good quality, thick cut bacon may be substituted, as it is more readily available.
Serves 4-6
Ingredients:
1 pound dry spaghetti
8 ounces Guanciali, or good quality, thick cut bacon cubed
1 Tablespoon unsalted butter + 1 Tablespoon Extra Virgin Olive Oil
3 large eggs + 1 egg yolk
1 cup grated fresh Pecorino Romano or Parmigiano-Regiano
1/2 cup fresh chopped Italian parsley
1 tablespoon fresh cracked black pepper
1 teaspoon kosher salt
Preparation:
In a large non-stick pan, melt the butter, then add the olive oil. Place the cubed bacon in the pan, and slowly start to render the fat.  Keep cooking until the bacon becomes crispy stirring often, approximately 8-10 minutes.
Place a large pot of salted water on the stove over high heat.  Add the pasta to the water once it has started to boil- most dried pastas will cook 8-10 minutes.  The cooked pasta should be al dente (firm to the bite).  You can determine doneness by trying a strand while it is cooking.
In a small bowl combine the eggs and egg yolk- beat with a fork or whisk until completely smooth.  Add 1 cup of grated cheese to the beaten egg mixture.
Once the pasta is done cooking, add it to the pan with the rendered bacon.  The pasta doesn't need to be fully drained, as the renaming water is starchy, and add to the thickness of the sauce.  Toss the pasta in the pan, letting it soak up the bacon fat and evenly distributing the ingredients.  Remove the pan from the heat, and stir in the egg/cheese mixture- stir rapidly and completely for 2 minutes.  Adjust seasoning with salt and pepper.  Add 3/4 of the chopped parsley.
Place the pasta on a serving platter- top with additional grated cheese, and chopped parsley.
Serve and enjoy!