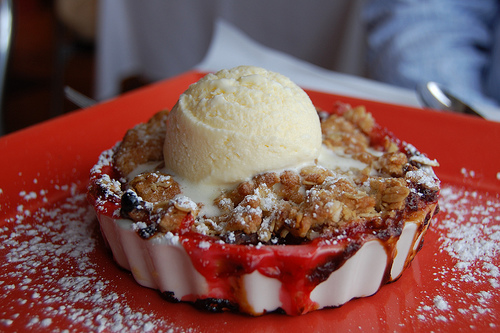 Strawberry Rhubarb Crisp Recipe
Rhubarb is a fickle vegetable; it looks like celery, but has a sweeter taste and light texture. People don't know whether to cook savory dishes with it, or make pies or tarts. Either way, it's a food worth exploring. Rhubarb has been cultivated for thousands of years, and was originally used by the Chinese to cure common ailments. Back to point: I had the opportunity to experience a phenomenal dessert the other evening at a dinner party… it was a Strawberry-Rhubarb Crisp with Cardamon and Nutmeg Topping. Freshly out of the oven it melted in my mouth, and was the perfect ending to a great meal. If you haven't yet experimented with Rhubarb, this is the recipe for you. Thanks Katharine L!
Strawberry-Rhubarb Crisps with Cardamom and Nutmeg
Topping
1/2 cup old-fashioned oats
1/2 cup all purpose flour
1/2 cup (packed) golden brown sugar
1/3 cup sliced almonds
1/4 teaspoon ground nutmeg
Generous pinch of salt
6 tablespoons (3/4 stick) chilled unsalted butter, cut into 1/2-inch cubes
Filling
5 cups 1/2-inch-thick slices fresh rhubarb (from about 2 pounds)
2 cups halved strawberries
3/4 cup sugar
1/3 cup orange juice
2 tablespoons all purpose flour
1 1/2 teaspoons grated orange peel
1/2 teaspoon (scant) ground cardamom
1/4 teaspoon ground nutmeg
Sweetened whipped cream
For topping:
Mix first 6 ingredients in medium bowl. Add butter; rub in with fingertips until moist clumps form.
For filling:
Preheat oven to 375°F. Butter six 1 1/4-cup custard cups. Combine all ingredients except whipped cream in large bowl; stir to blend. Let stand until juices form, about 15 minutes.
Divide rhubarb mixture among prepared custard cups. Sprinkle topping evenly over mixture in each. Bake until topping is golden brown and crisp and filling is bubbling thickly around edges, about 45 minutes. Serve warm with sweetened whipped cream.
Chef Chuck Kerber