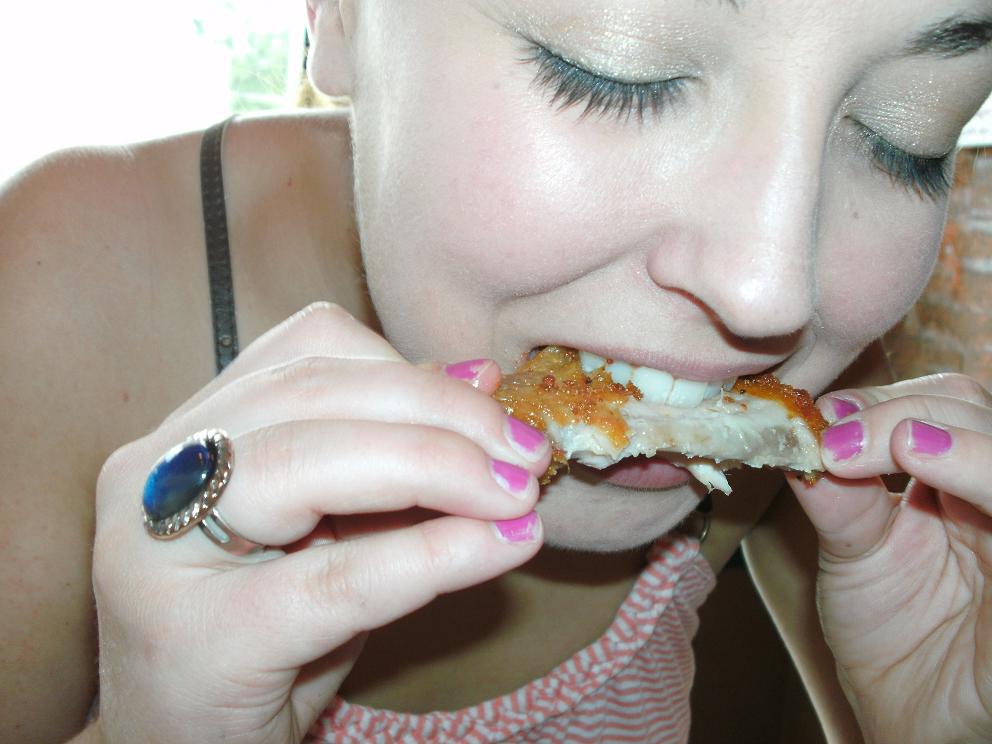 Bacon Bash, 2010
Amazing bacon wings. I love that my mood ring=happy at this moment.
A photo blog
Bacon Bash
Harris Grill
August 14th, 2010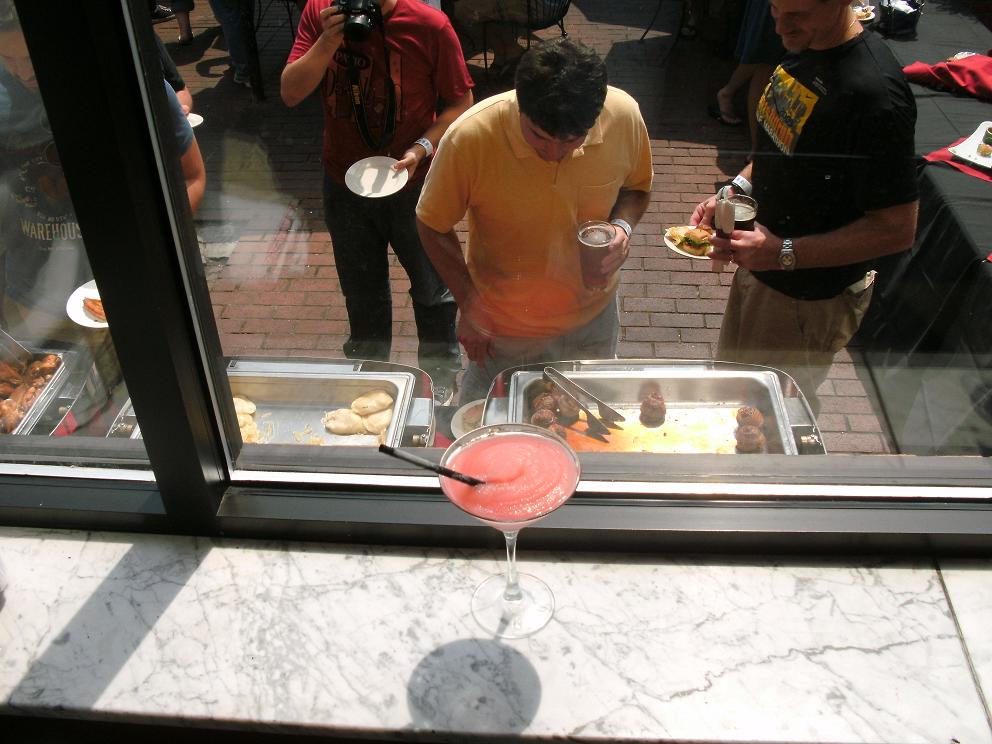 I guess that we arrived shortly after the first wave of bacon-lovers, because when we got there, most of the food was already gone. It was hot outside, so Ryan and I waited inside at the bar for them to replenish the food. This frozen cosmo was the perfect antidote to the heat and hunger.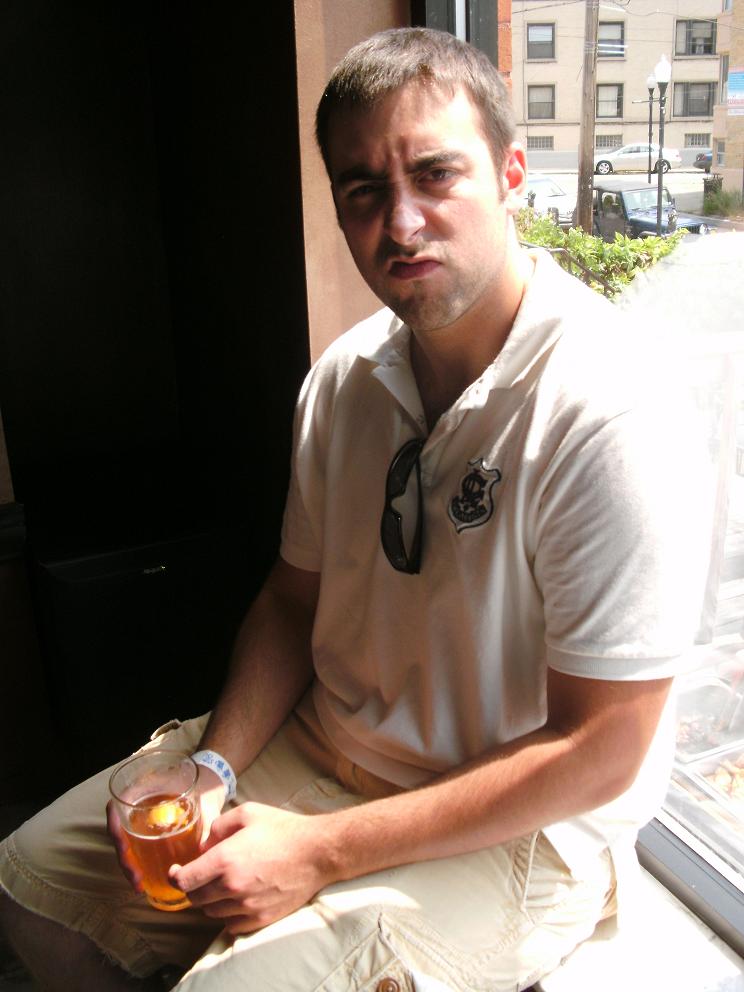 Crabby Ryan waiting for the bacon foods to be replenished. He enjoyed Bell's Oberon drafts throughout the event.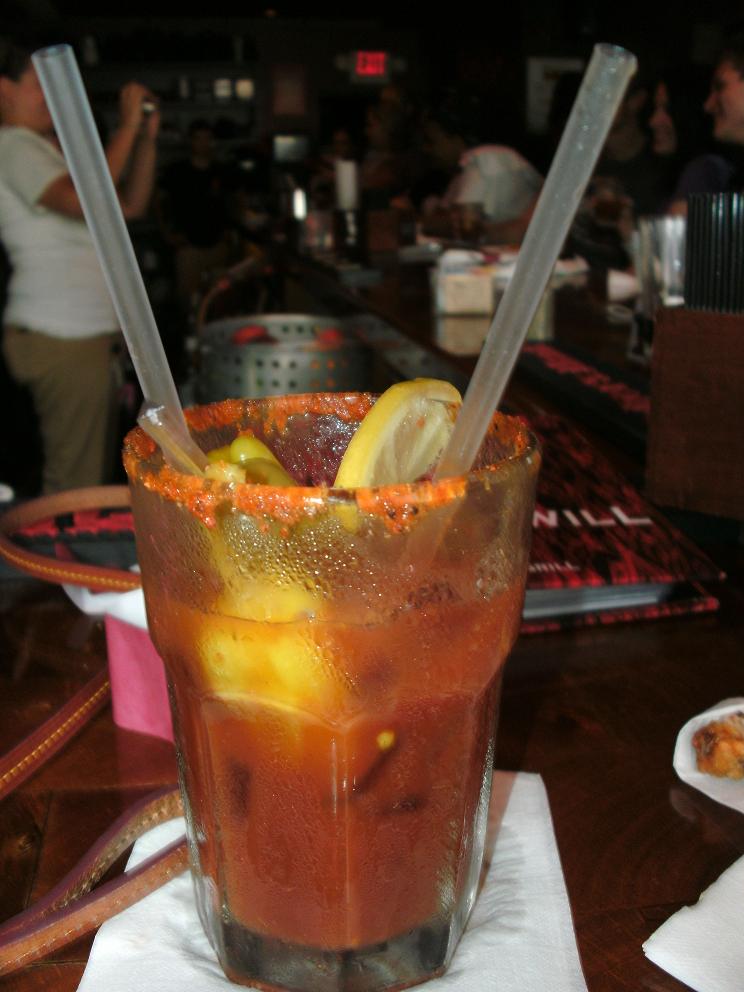 It took forever to get drinks at the bar, but I HAD to try a Bacon Bloody Mary. The bartender used Bakon Vodka for the drink and added a bacon bits rimmer to the glass. It was meaty and peppery and it was so heavy it was kind of a meal in itself. But they weren't screwing around…the rimmer really was bacon bity. It was interesting, but now that my curiousity is satiated, I probably won't drink this ever again.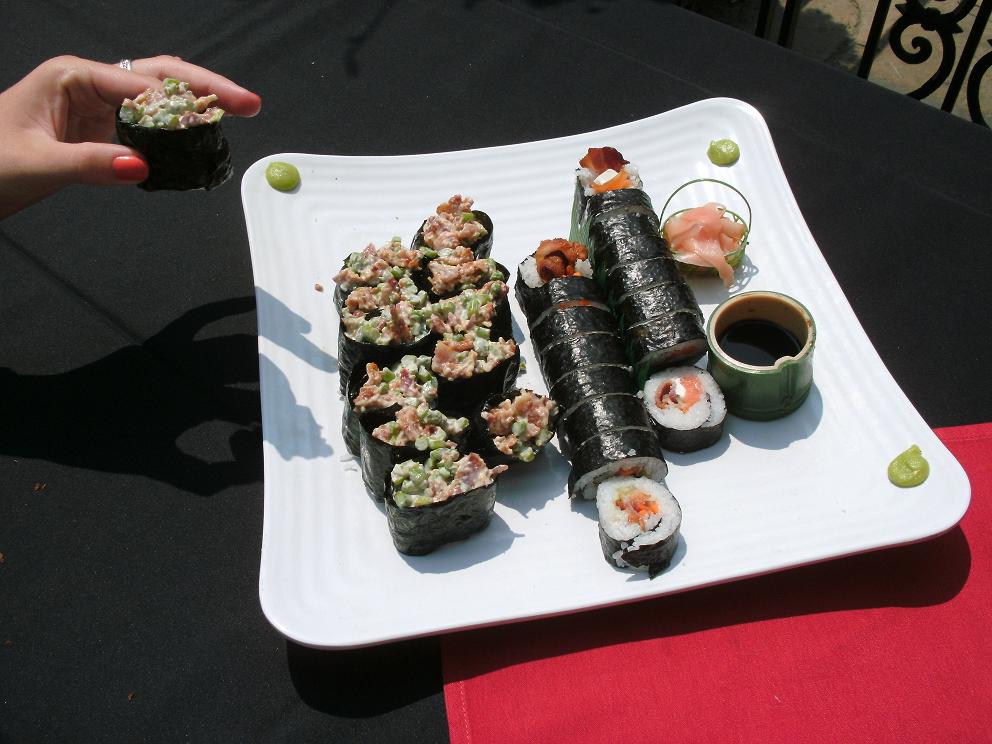 Bacon Sushi. Looked kinda cool. Tasted pretty gross. I ate half of one, and tossed it.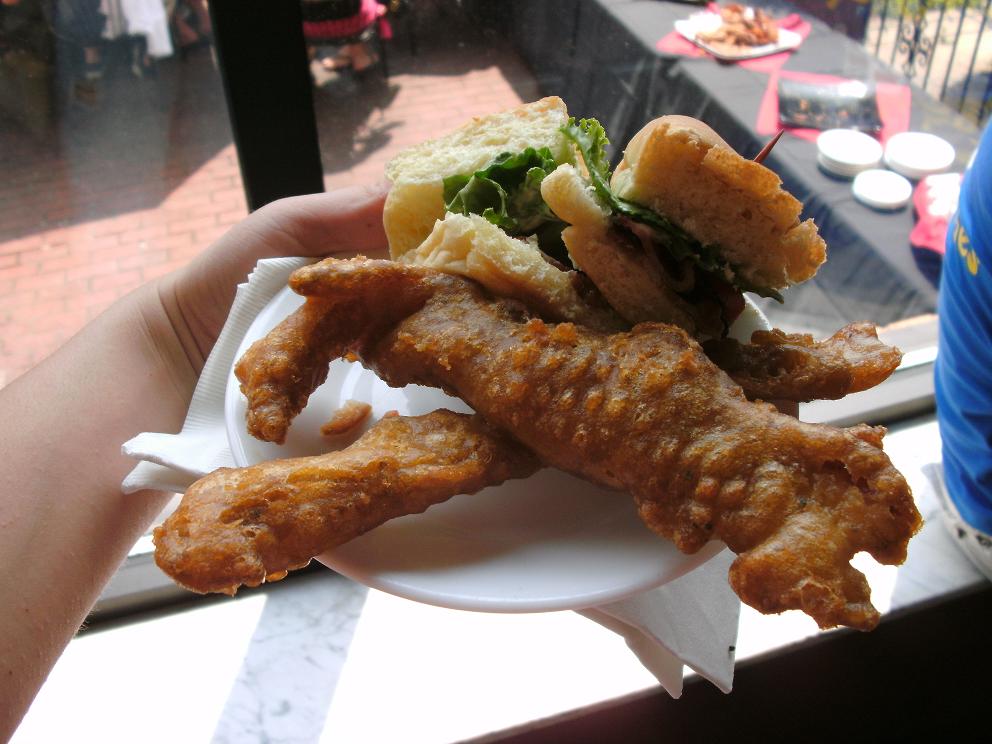 Deep-Fried Seahorse. Just kidding. That's deep-fried bacon right there, and it was SUPER-DELICIOUS! I wish they served this at carnivals. One of my favorites at the event…Ryan loved it too.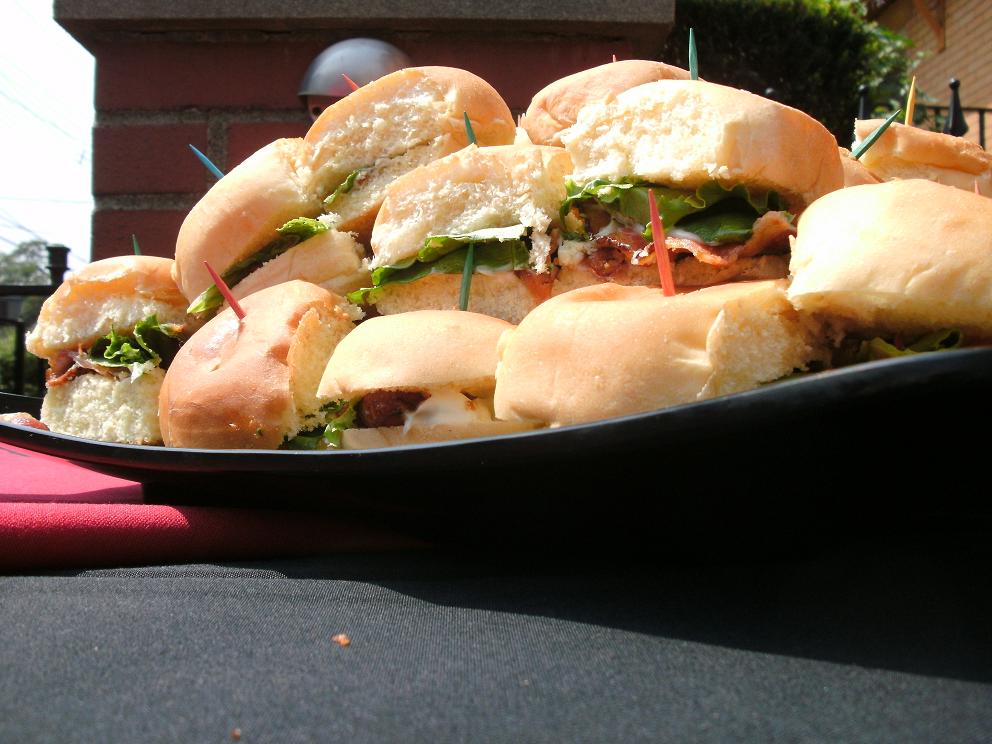 Mini BLT sliders: I really loved these little sandwiches (bacon, lettuce, tomato, and a lil mayo). I wish they had more of everything on them…they were not very heavy on innards. I would have loaded those suckers up! Still very good. I ate like 5 of them.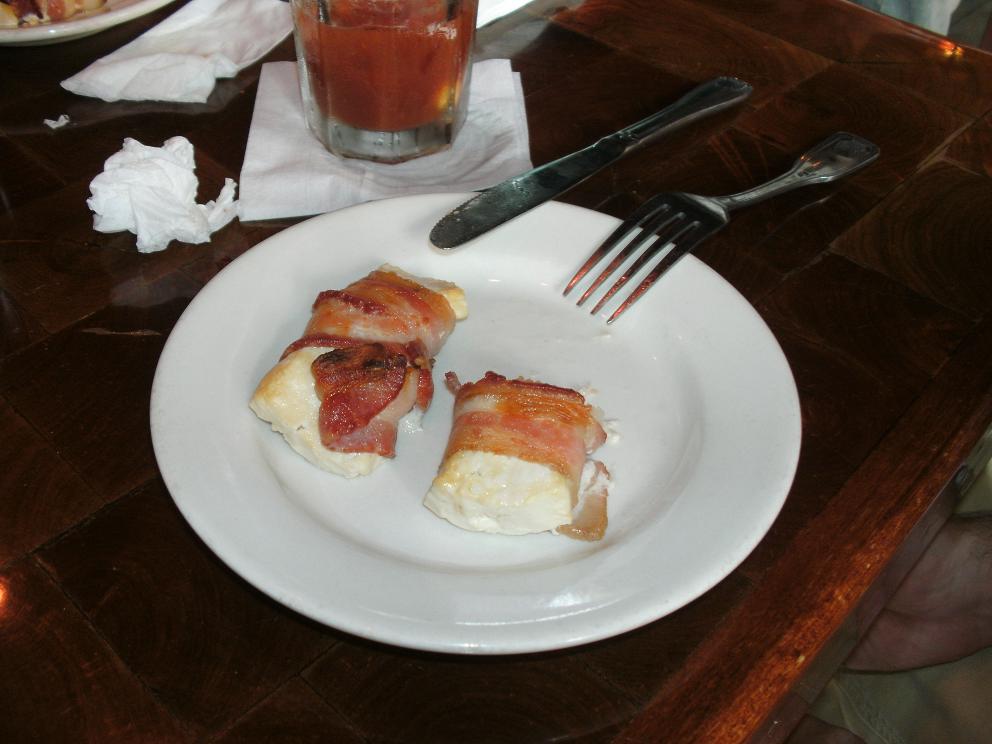 Bacon Tofu. Outrageously gross. I took one bite, spit it out, and proceeded to write cuss words about it in my notebook. The bacon was wrapped around a too-large piece of tofu…the textures didn't work together and the tofu taste was overwhelming. This dish actually made me really mad.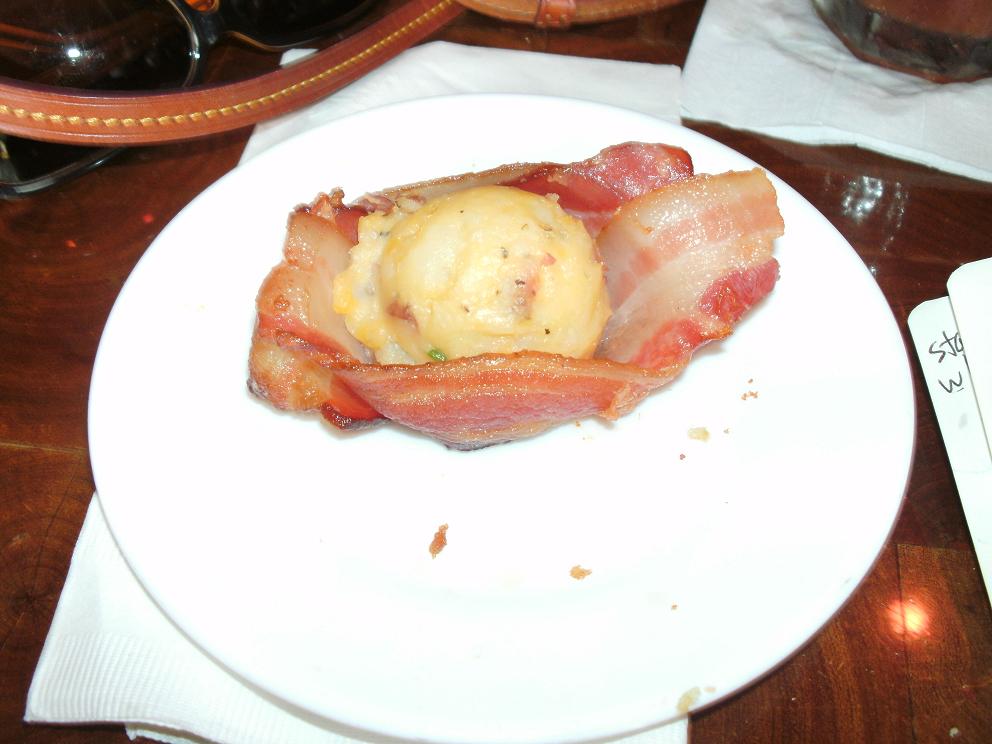 The cheesy potato bacon "shot glasses" were disappointing, although not terrible. It basically amounted to a rounded pile of bacon with a scoop of hard cheesy potatoes inside. According to my notes, though, I still thought this was "still freaking awesome." It occurred to me at this point, that all of the bacon dishes sounded good, but lacked in execution. Foods weren't cooked WITH bacon, they were covered with it. Still the sheer number of unique foods was impressive.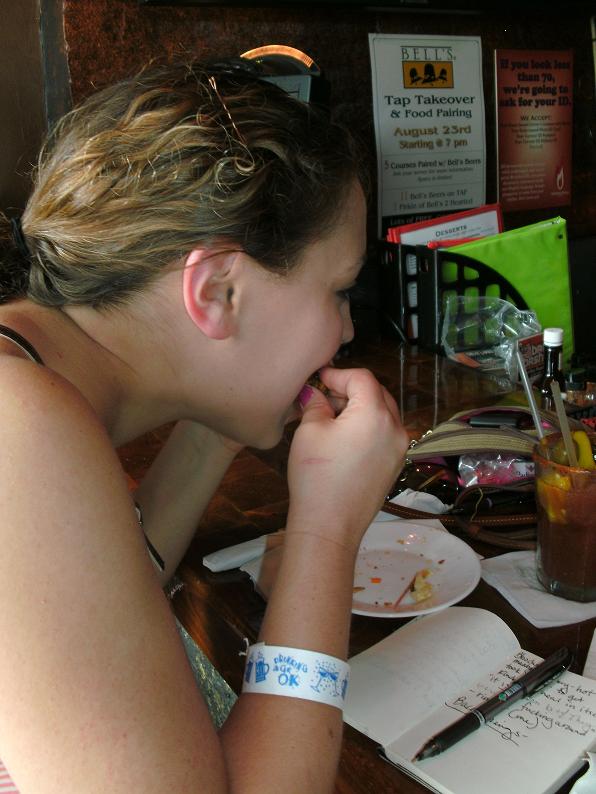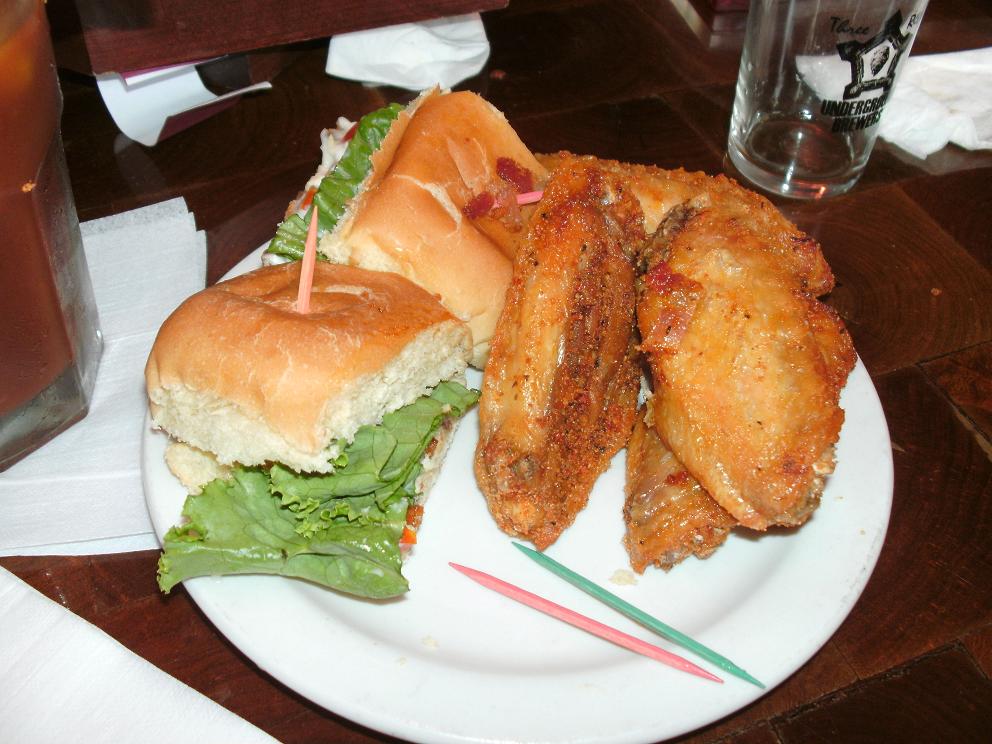 Bacon wings and Mini BLT sliders…My two favorites at Bacon Bash!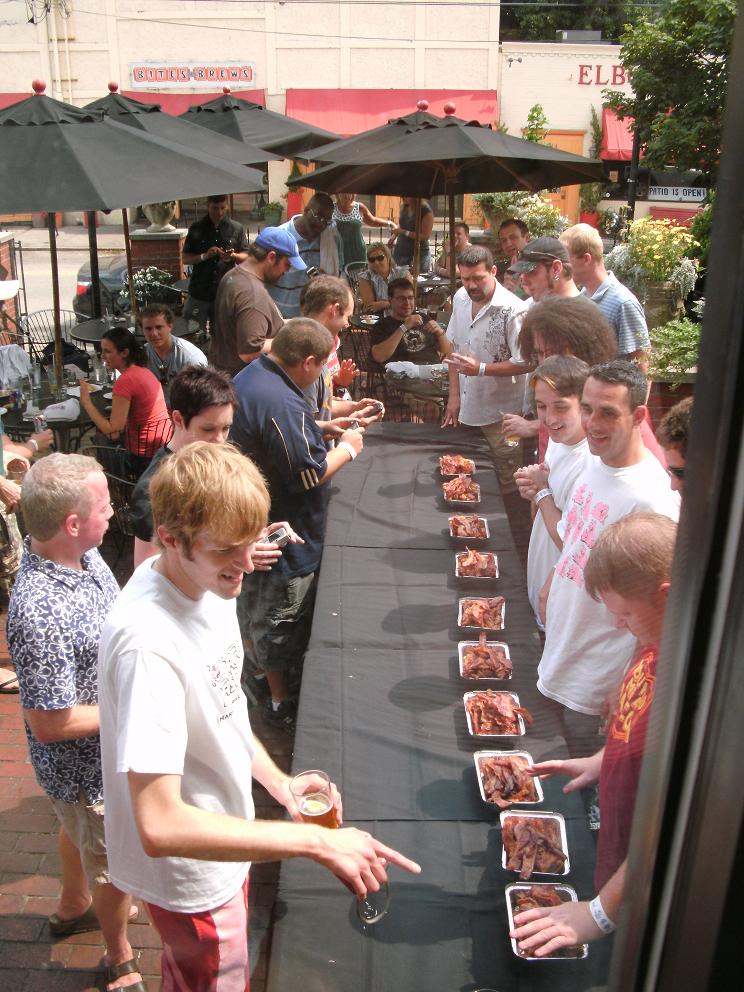 Mr Baconpants prepping the contestants for the bacon-eating contest. Eaters had three minutes to eat their entire tray of bacon!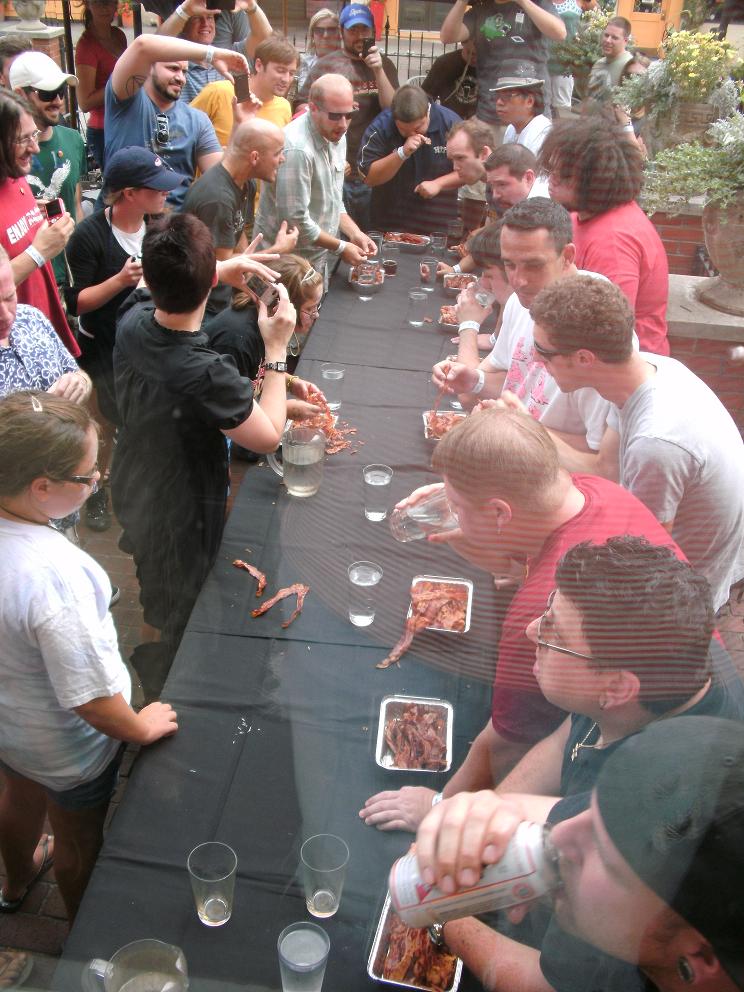 "Makin' Bacon" cheated. That little girl kicked almost ALL those big dude's butts! In the end, this guy was the winner…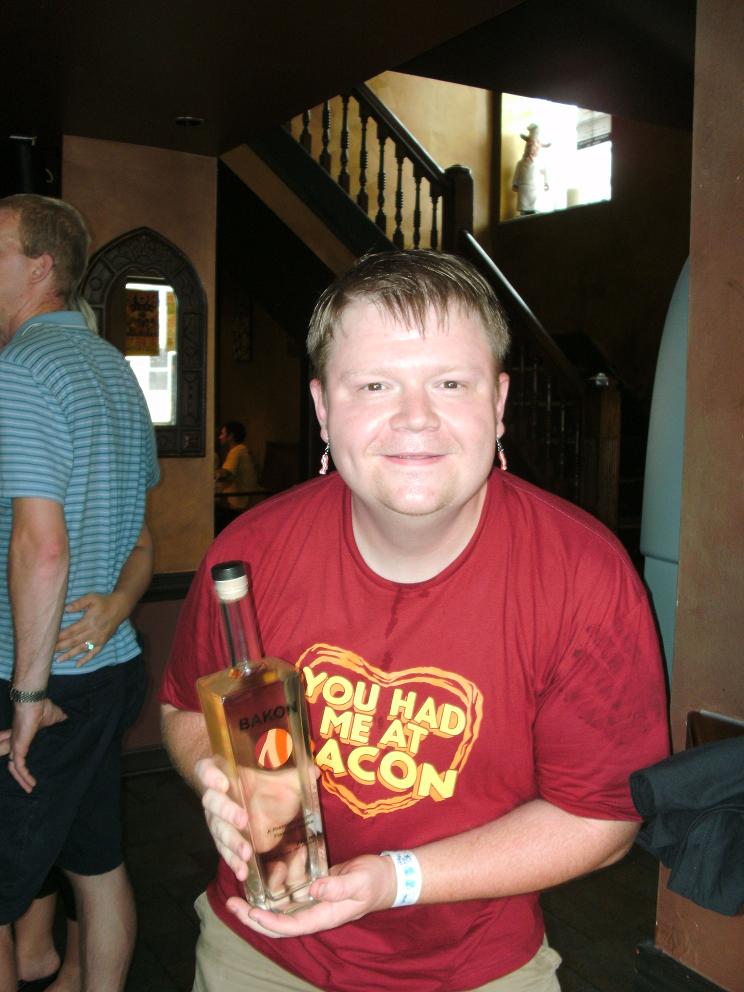 I was so happy for this guy, I think his name is AJ! Infectious enthusiasm + ability to eat loads and loads of food…I could learn a lot from him. He even wore bacon earrings!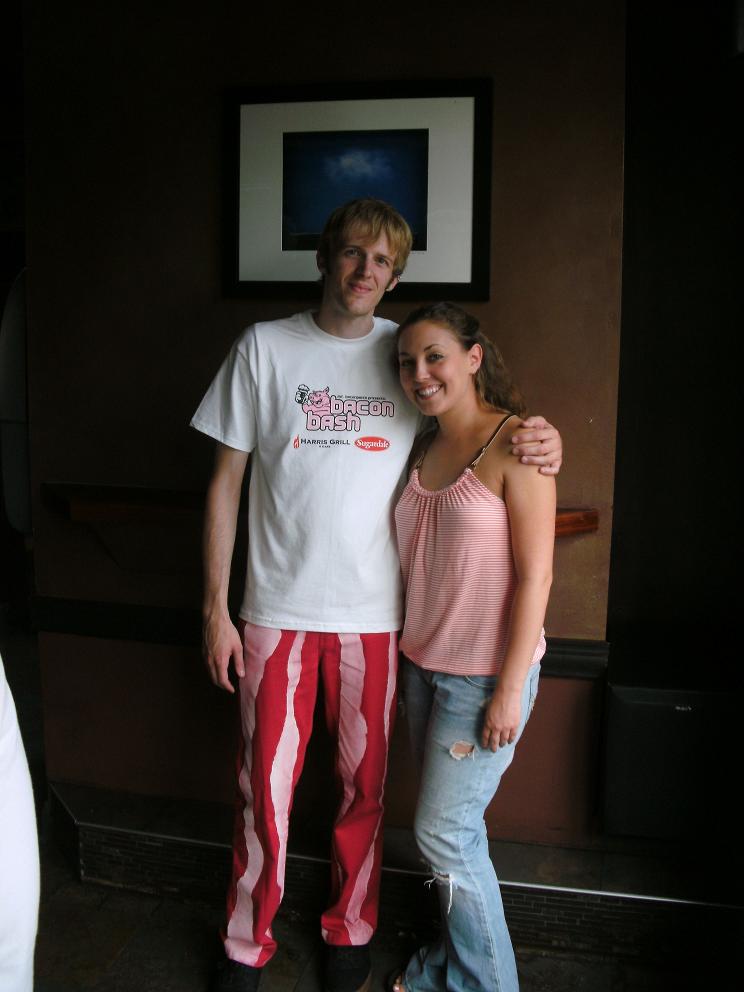 Pittsburgh Bloggers, unite! katie lane & mr baconpants. Nice guy.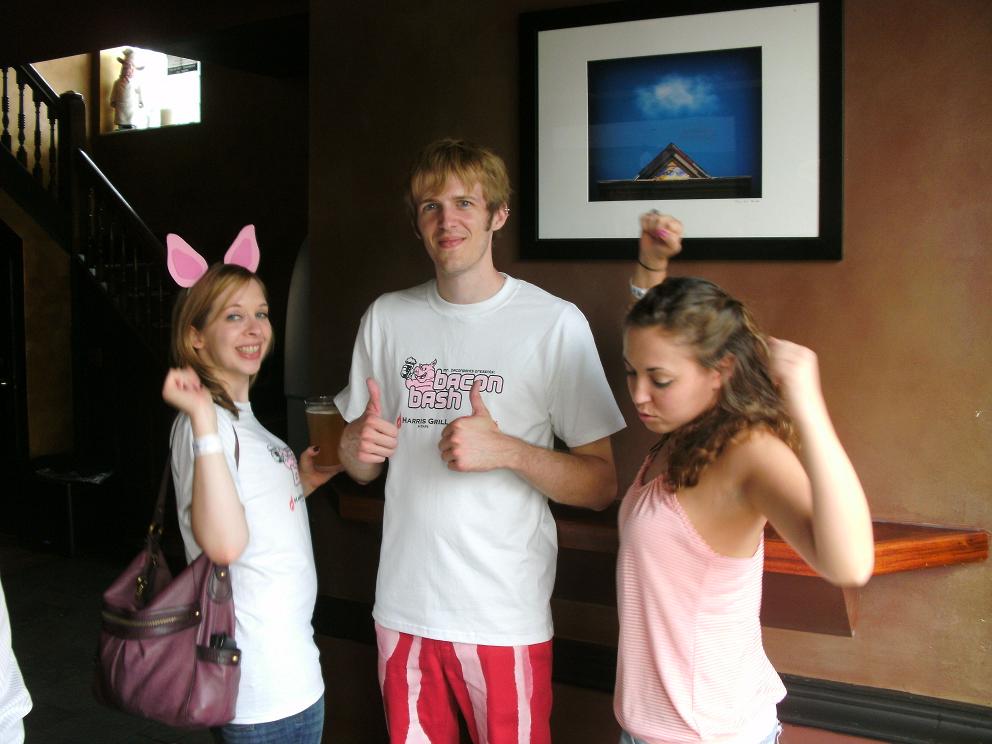 Then we had a dance party! This is where things started to get weird.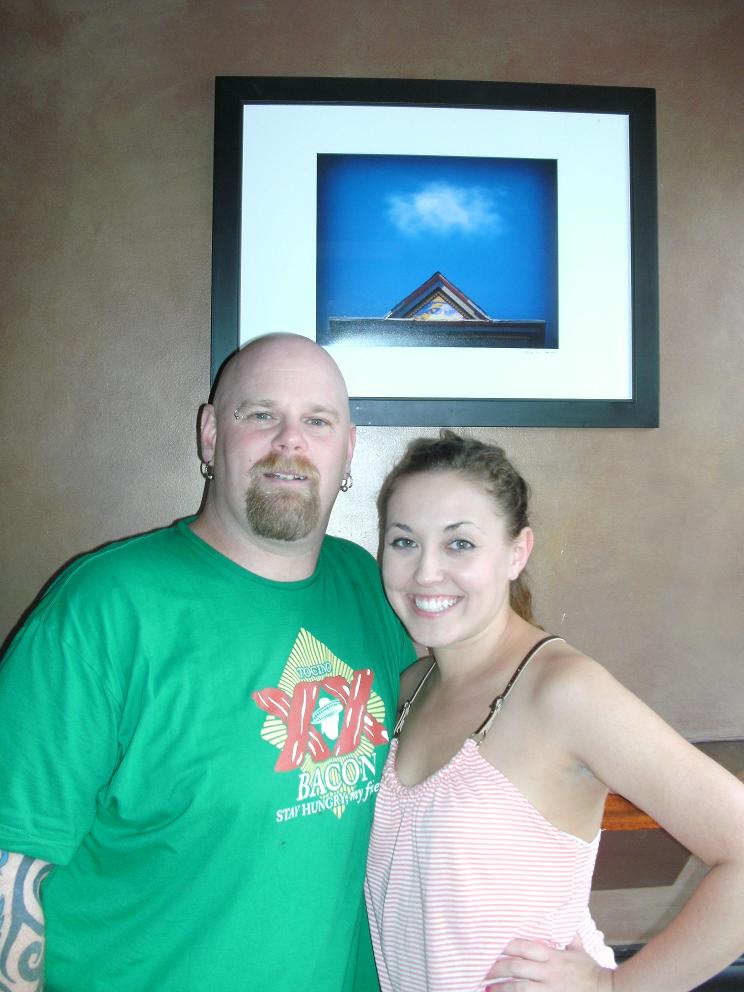 My new pal Greg. We sat next to Greg and his friends at the bar, and it turned out we had some mutual interests and friends! I had a really great time getting to know Greg and his friends. Check out his website at www.nicoleandgreg.net ! It's a GREAT site, and I'm not just saying that. No, really.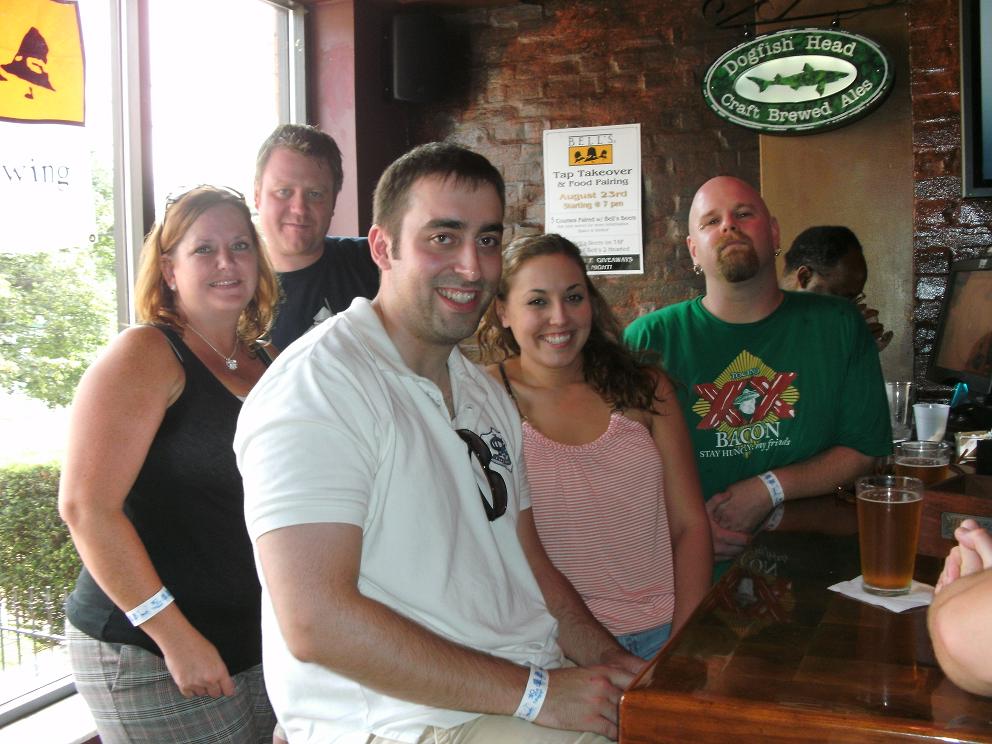 By late afternoon, I was happily full of bacon and beer. Bacon Bash was a success! The food could have been more inspired, but the atmosphere made it an excellent event! This was probably the most fun & memorable day of my summer so far. Can't wait for next year! As Bobby (the dude standing in the back) said, "Bacon brings us together." Well said, new friend. Well said.