Tutti Frutti, Suirrel Hill, PA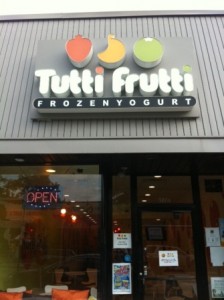 Tutti Frutti, Suirrel Hill, PA
I've always liked frozen yogurt– it reminds me of living in San Diego, and spending time with my father. He and I would take a few trips a week to the local yogurt store, and gorge ourselves on frozen goodness. Frozen yogurt is more nutritional than soft serve ice cream because it has active cultures in it- therefore, you can eat it in excess and not worry about the extra calories. NOT.
My friend told me about a yogurt shop that popped up in Squirrel Hill next to Rita's by the name of Tutti-Frutti. It's been years since I've had the stuff, so I stopped by on my way home from dinner in Shadyside. It had been a hot day, so I expected to see a crowd when I entered the store. There were only two other people in front of me… not a good sign.
Tutti- Frutti is a self –serve yogurt shop. There are four large machines, customers grabs bowls, and helps themselves. Operating the yogurt machines is a no-brainer; simply pull the lever, and the yogurt flows out. I imagine kids love the self-serve premise. As I put yogurt in my cup I laughed, as I envisioned myself putting my face under the machines and letting the yogurt flow in my mouth like Homer Simpson would. Mmmmmmm… frozen yogurt.
After your cup has been filled with the desired flavors, you proceed to the toppings station where can load your frozen dessert with marshmallows, chocolate sprinkles, gummy bears, and other sweet candies.
At this point, the customer takes their yogurt to the weigh station, and the price of your portions is determined by weight, and the amount of toppings.
My yogurt was ok, but not great. Have you ever had velvety, fluffy yogurt or ice cream? Well, this isn't it. The consistency was icy, not soft. The flavors were average (not very intense) and my dessert wasn't memorable
I'm going to stick to Rita's next time I'm on Forbe's Avenue.
Chef Chuck Kerber
Cooksandeats.com
chuck@cooksandeats.com