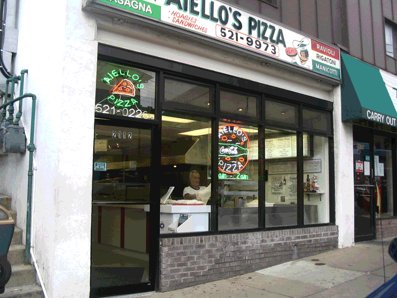 Those of you familiar with Squirrel Hill have undoubtedly witnessed this fight before. It's a fight that goes back for years and years. Many people have put their own taste-buds to the test in this age old question. Those of you who are unfamiliar with these neighborhood pizzerias, well, you're also in for a treat. Because tonight I will find out for myself which of these landmark Squirrel Hill pizza joints really is the Best of Murray Avenue.
Really though, I didn't set out to answer this question tonight. I knew I wanted to go somewhere and write, and I knew I was hungry. Good sense and a healthy appetite led me to the intersection of Forbes and Murray, as there are many, many delicious restaurants and cafes in this area. But…where to exactly? I pulled off a few times near the 61c Café (and I plan to end up there to digest-figuratively as well as literally-the undertaking I'm about to encounter.) I kept driving because I knew I wanted a bite to eat first. Right as I crossed Hobart Street, I knew my mission. The glowing green and red neon signs lit up my task like a, well, like a pizza sign: I would test BOTH Aiello's and Mineo's in a winner-take-all pizza championship. I'm writing this article in REAL TIME, and yes, I am sitting in my car right now.
I entered Aiello's, and greeted the pizza guys behind the long counter. They were a jovial trio, and why wouldn't they be? I'd be happy too if I was surrounded by pizza all day. Anyway, I ordered two slices to go. There were tables in the back of the restaurant, but I didn't want to stick around. I planned to eat and write in my car. (A little creepy, though, isn't it?) Aiello's is bright and clean with the usual pizzeria décor. I noticed a LOT of awards on the wall. Promising! Just then, I noticed the song playing in the background, and erupted with laughter. Of course I started harassing them about their music choice, and we all got a good kick out of it. You see, the song was "Boombastic." Yeah, THAT "Boombastic." Mista Lova-lova himself…Shaggy. I would like to thank the tall pizza guy at Aiello's for cracking me up with his spot-on rendition of "Boombastic." If only he knew I was going to write about it…
Anyway, I'm ready. Give me a minute or two; I'm eating in my car and it's hard to manage a box of pizza and a laptop at the same time. I've got two slices of pepperoni pizza and a Dr Pepper from the Aiello's vending machine. In all this meal costed $5.30, $3.70 for the slices and $1.60 for a bottle of pop.
This is a flat pizza with a thin crust. It doesn't look too greasy, in spite of a healthy blanket of cheese, and there were minimal grease spots on the box underneath the pizza. The slices are a decent size, too. I think two would make a good meal, and I'd probably go for a third. Digging in…It's got a delicious, sweet sauce and a good amount of it. I'm a big fan of saucy pizza, but folks who don't feel that way would not be turned off by the amount on this pizza. It's the "right" amount of sauce, in my opinion. In fact, I'd say the sauce to cheese ratio is perfect. I'd like to believe that there is a scientific formula for the perfect pizza. Aiello's just might know that formula. I usually like to load my pizzas up with red pepper flakes, but I'm glad I didn't with this. The sweet sauce is a real treat.The pizza is scattered with thin, spicy pepperoni, and the meat does add to the quality of the pizza. As I finish off this first slice, I'm pleased to find that the crust is slightly crispy and it crunches as you bite into it. Excellent! The second slice was pretty good too, though by this time, the cheese was less melty and awesome. Still very, very good.
My keyboard is greasy.
Ok, now I'm going to check out Mineo's for round two of the Squirrel Hill pizza challenge.
As soon as I walked in, I began to understand that this rivalry has been raging for years. Mineo's walls are also adorned with awards going back many years. I noticed right away that Mineo's is playing up it's Italian "familyness". It really comes through in the atmosphere. More so than Aiello's, this is the kind of place you might bring your kids or your grandparents.
Again, I order two slices of pepperoni pizza to go.  Two slices at Mineo's costs the same as two slices from Aiello's.  Good.
No, I am not full yet.
It's such an exciting thing, to lift a pizza box lid for the first time in a meal. I'm not sure there's a better smell in the world. On first glance, I am a little disappointed in my Mineo's slices. They are a little smaller and waaaaaayy greasier than the Aiello's. The pepperoni is the thicker, small rounds that pucker up and collect pools of grease in them. Eww. Here we go. The first few bites were good. Nice and hot, but the grease was overpowering. I already had a coating of grease in my mouth that covered up whatever flavor the cheese and sauce may have added. I knocked off a couple-a pepperonis hoping that would help. Unfortunately, it did not! I'm about halfway through the first slice and I already know that due to the grease, I am not interested in eating both slices. I'll barely get through this one. I'd be really bummed out if I had bought an entire pie.
Mineo's slice also boasts a crispy, fresh-tasting crust. The sauce is pretty generic, same as any store-bought jar with maybe a little bit of pepper doctored in. I dumped the pepperoni altogether. If I got this pizza again, I'd try some banana peppers, I think; something fresh and crisp to cut all this grease. I'll be honest, I am very disappointed. Mineo's, your pizza did not deliver.
It might not sound like much, to win the heart of one little Pittsburgh food blogger, but this is actually a great honor. I've been studying, nay, worshipping pizza since I was about 6 years old, soooo I guess that means that I know what I'm talking about. Ask around. People know about me and pizza.
With all that said, I'd like to thank AIELLO'S PIZZA for making the best slices in Squirrel Hill! I feel really good about calling yours the best pizza in town, from the scientifically perfect ratio of sauce to cheese to your crispy, crunchy crust. You've got bigger slices, barely any grease, and a less obnoxious décor. Aiello's, you are the best!
Boombastic, indeed!