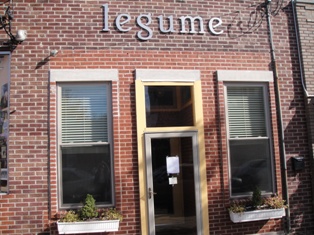 "You haven't tried Legume?"  That's all I've been hearing for the past year, and my answer was always the same, "No I haven't."  I finally decided to make reservations to see what all the hoopla was about.  My girlfriend and I arrived at 7pm on a Friday evening.  The restaurant was filled to capacity (40 or so seats) and as we made our way to the table we noticed that the patrons were busy eating, talking, and drinking wine.  We sat down and had the opportunity to see a few of the main dishes that were being served around us; they looked delicious. We were becoming more and more eager to sample the food.
The interior of Legume is very unassuming; the walls are painted with warm colors, and there are minimal decorations on the walls.  After a few minutes of waiting, we were seated by the hostess, Sarah Hooper, who also happens to be co-owner and wife of the Chef, Trevett Hooper.    Our waiter arrived and explained the specials for the evening in a very educated manner; he must have been a foodie.  After a few moments of indecision, we finally made up our minds.  We would start with a house salad ($8.00) of mixed greens, gorgonzola cheese, candied walnuts, and house vinaigrette.  As an appetizer, we decided to indulge; Duck Confit with Pear-Ginger Chutney ($12.00).  For those of you not familiar with what this is, let me offer a short explanation.  Duck Confit is made with the leg of the duck.  It is seasoned, rubbed with garlic, and slowly cooked in its own fat for up to 10 hours.  For my entrée I chose the ½ roasted chicken with roasted garlic and buttered-mashed potatoes ($18.00).  My girlfriend opted for the special; Braised Veal with mashed potatoes and carrots ($26.00).  For dessert we opted for the Hubbard Squash Flan with fresh cream and a homemade ginger-snap cookie.
The salad was a perfect start.  The lettuce was crisp and cold; covered with just enough dressing so that we could decipher between the sweetness and bitterness of the different types of greens.   The gorgonzola had just enough bite to it; the veins were sour (as they should be) but the whites of the cheese softened any harsh taste that may have (but wasn't) present.  The candied walnuts were meaty and soft, adding another component of texture.  Lastly, the pears finished the salad with a sweet, soft taste.
Our duck confit arrived and we both smiled in anticipation.  The duck was cooked perfectly; its flesh was soft, and flavorful.  By the time our waiter arrived to ask if we were pleased with the dish, all that was left was a bone picked perfectly clean.  All of this eating excitement and our main dishes were still on the way.
Our entrees arrived, and our waiter said "enjoy" with a small snicker- he knew we were about to be thrust into culinary extravagance.  My girlfriend took a bite of her braised veal first.  She smiled, and chuckled a bit.  Her eyes grew large and she said, "You're not going to believe this, try some."  I took a small nibble and began to laugh, because crying in public wouldn't have been appropriate- it was that good.  Obviously the meat had been braised for quite some time; hours even.  It was flawless- cooked with veggies and just enough liquid to permeate the entire piece of veal.   My chicken was just as good.  It too was baked to exactness, and tasted as if it too had been braised.  The meat was savory and moist; it literally melted in my mouth.  The garlic mashed potatoes were rich and buttery, a perfect complement to the poultry.   The roasted garlic bulbs that were placed around the dish were sweet; I ate them by themselves.
The Hubbard-Squash flan was placed in front of us soon after our empty entrée plates were taken away.  We dug right in and weren't surprised at how good it was too; a perfect ending to the perfect meal.
If you haven't been to Legume, you're missing out.  The food is perfectly prepared by a Chef with obvious talent.
Legume
1113 South Braddock Avenue,
Swissvale, PA 15218-1250
(412) 371-1815

‎