Well, kids, summer is almost here, and along with it comes my appetite for strong margaritas and chips and salsa!  So, when the sun peeked through one of the 4,716 thunderstorms of the month, I grabbed my guy and headed out to Mad Mex! 
I'd been to the Oakland location a few times, but I'd never been to any of the others.  Though the setting of the Greentree restaurant is very suburban and not at all like it's South Oakland buddy, the interior decor remains the same.  Funky voodoo flying skeletons, tortured-looking chicken paintings, and barely-any-lights-at-all are the norm at this Big Burrito restaurant. 
Since there was a 15 minute wait, Ryan & I grabbed a couple of seats at the bar.  Sadly, the inattentive bartenders left us sad and thirsty for a long, sad time.  I ordered a regular ol' lime margarita on the rocks with salt, and Ryan had a Guinness.  We asked the lady bartender for chips and salsa; after all, those three things were my main reasons for going to Mad Mex in the first place!  We waited and waited, and we waited while we waited.  No chips.  No salsa.  Just my sadness and the worst margarita I've ever had.  The drink was overloaded with Triple Sec (or whatever sweetener they use) and it actually overpowered the tequila.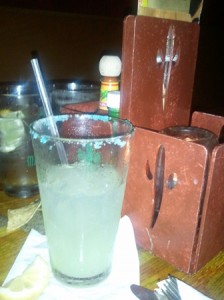 We were escorted to our dining table and as we walked through the restaurant, I noticed a whole lot of empty tables and tables that needed to be cleaned.  So, why the wait? 
Our kind server, Susanne, greeted us and came back quickly with the coveted chips and salsa.  I explained that I didn't want the margarita, and I ordered a Corona instead.   Ryan & I began digging in to the salsa, and it didn't take long for my disappointment to spill over into the beginning of our meal.  The salsa was barely more than diced tomatoes.  I know this because I used to use diced tomatoes when I was out of salsa, and the Mad Mex salsa tasted exactly like that cheap substitution. 
I don't know what the words for "severely disappointed" are in Spanish, but add "en fuego" to whatever those words are, and you can imagine how I felt.
Ryan ordered the Mondo Combo Fajitas with steak and chicken.  When Susanne delivered the sizzling platter, something sizzled right into her eyeball.  She got the ol' Sizzlin' Steak Eye.  (I felt bad.)  It's funny though, that the steak was so hot because my Mad Mex Enchilada was quite cold when it arrived at the same time.  The enchilada sauce already had a stiff film on the surface, as did the accompanying black beans.  I stirred everything and it evened out to a lifeless lukewarm temp.  The rice was cold and hard and annoying.  As I ate the enchilada, I was (somehow) surprised by the lack of flavor in the chicken, in the tortilla, and in the embarassingly mild sauce.  What a terrific dud of a dining experience.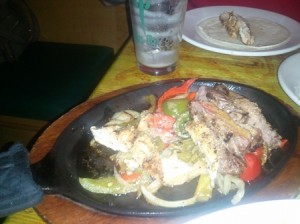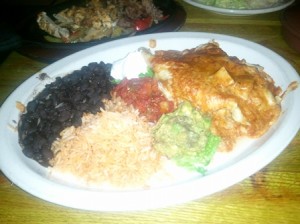 Oh!  And I nearly forgot how the meal ended!
"There's an old joke…two elderly women are at a Catskill mountain resort, and one of 'em says, "Boy, the food at this place is really terrible." The other one says, "Yeah, I know; and such small portions." Well, that's essentially how I feel about life – full of loneliness, and misery, and suffering, and unhappiness, and it's all over much too quickly."  (Woody Allen, Annie Hall)
The final notes I took for this meal read, "Fly flew into my meal so I stopped eating." 
Ole?