It's Fall- this delicious, creamy recipe for Chicken Pot Pie will please your family and friends!
Chicken Pot Pie
Ingredients:
2 large cooked chicken breasts (will equal 2-2.5 cups cubed chicken)
6 cloves minced garlic
1.5 cups chopped celery
2 cups chopped leeks
1.2 cup chopped onion
1.5 cups chopped carrots
1-cup peas
½ cup unsalted butter (1 stick)
½ cup flour
3 cups chicken stock
1-cup heavy cream
¼ cup each chopped flat-leaf parsley
2 tablespoons chopped fresh thyme
Salt and pepper to taste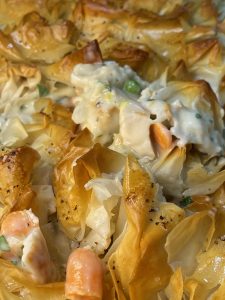 Season, cook and cube chicken.
Chop vegetables; set aside.
In a large skillet or pot, melt the butter.  Add the garlic and leeks.  Sauté until caramelized.  Add the flour, and cook until lightly brown and nutty, approximately 7-10 minutes.  Add the chicken stock and cream, stirring constantly until smooth.
Add the vegetables, and cook for 10 minutes until they are fork-tender.  Add the cooked chicken and fresh herbs.  Stir, adjusting the seasoning with salt and pepper.
Cut the phyllo dough onto squares and crumble lightly.  Place on top of the chicken mixture.  Brush with butter.  Add salt and pepper.
Bake at 400 degrees for 20-25 minutes, or until golden brown and bubbly.
Enjoy!
Chef Chuck Kerber