Rita's, Squirrel Hill, PA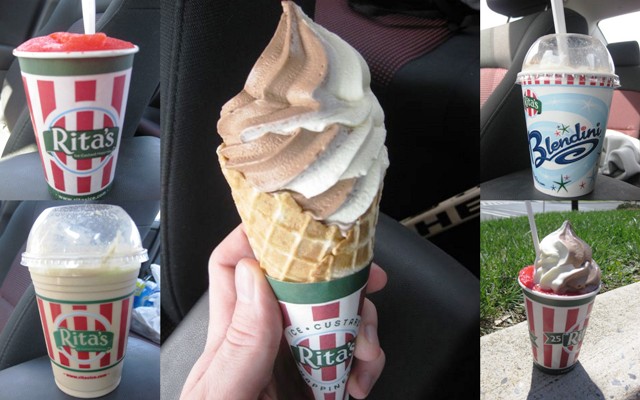 It's been a long and arduous winter.  The snow was unrelenting, and the temperatures were well below freezing for several weeks.  Three days ago it was 60 degrees; the sun was shining, and I had my windows open to let in the fresh spring air.  I was driving through Squirrel Hill (on Forbes Avenue), and noticed Rita's.  If you haven't been, it's well worth a visit, especially when the weather is hot.  Rita's is famous for its Italian ice- it comes in many different flavors: cherry, mango, lime, lemon, watermelon, chocolate-mint, strawberry and peach just to name a few.  I really enjoy the frozen ice combinations, but my favorite (by far) is the frozen custard.  If you've been to Dairy Queen, or any other soft-serve establishment, you'll love this soft-serve treat.  The frozen dessert has a similar taste, but a different consistency than traditional soft-serve.  The custard is fluffy and rich; the flavors (chocolate and vanilla) are discreet, but unmistakable.  Rita's specialty is something called the Gelati- that's a combination of both custard, and the frozen ice.  If you want to stay away from the sugar, Rita's also offers sugar-free frozen ices as well as Slenderita- sugar free custard.
I'm looking forward to the warm spring and summer months.  I'm also looking forward to treating myself to a Rita's cone.
Ritas Italian Ice 5880 Forbes Avenue Squirrel Hill, PA 15217
412-421-6320