Shogun Japanese Steakhouse, Monroeville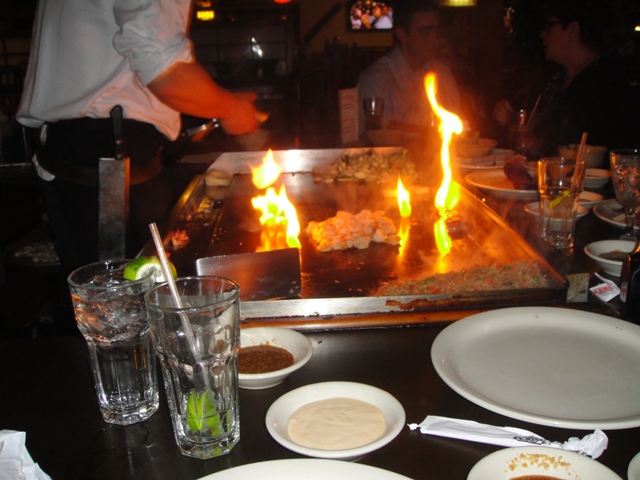 When I stepped into Shogun Japanese Steakhouse, it was if I was stepping back in time; not.  Shogun in Monroeville is a nice restaurant, but it's far from truly authentic Japanese cuisine, and that's just fine.  I imagine that the folks who choose to have dinner at Shogun aren't concerned primarily with the food, but are more interested in the theatrics that accompany the food.  As much as it is a restaurant, Shogun is a theatre of sorts, with experienced chefs who put on a skilled show at your table.
As we made our way across the kanji (Japanese bridge) to our table, we were eager to experience the food at Shogun. We sat at our seats, and admired the large grill that our chef would be performing at.  Our lovely Caucasian hostess arrived in her Japanese kimono, and took our drink orders.  Katie Lane ordered some type of fruity-vodka drink that arrived in a ceramic Buddha; it was pricey, but she got to take the little Buddha home!  We also ordered a few rolls of sushi which were good- they came with a sauce; something I hadn't seen before.  The rolls were good- we ate them up.  We ordered our dinners next- Hibachi Teriyaki Tuna ($22.99), Hibachi Chicken Teriyaki ($20.99), and a few orders of Hibachi Shrimp ($20.99).  All of our entrees were served with Japanese Green Onion Soup, Shogun Salad with Ginger Dressing, Veggies, Fried Rice, and Hot Tea.  The show began, and we were all impressed.  The talented Japanese chef had pieces of chicken, shrimp and tuna flying through the air.  Flames singed our eyebrows, but we didn't care, we were too caught up in the show.  Shazaam!  A small piece of shrimp flew in the chef's hat- we all clapped, but secretly wondered if the small fella would end up on one of our plates. Our fried rice was placed on our plates first, then the veggies, and lastly, the proteins.  The portions were more than generous.  The food was flavorful, and the optional sauces accompanied the dishes well.  We all had a great time enjoying our food, and laughing with one another.
I didn't get to take a look at the check when it was placed at our table, it was picked up by someone else (thanks Mari!)  I know that taking a group of friends to Shogun isn't inexpensive, but the extra money pays for the show.  The food and service at Shogun is good.  If you have a special occasion to celebrate, it's worth a try.
www.shogunpgh.com
8 Tech Center Drive
Monroeville, PA 15146-3046
(412) 372-0700