Stagioni, Bloomfield, PA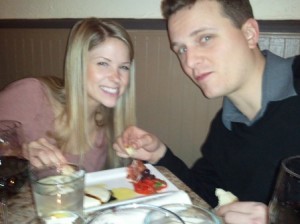 I've been trying to write this article since February.  Right now, according to Microsoft Word, I've been editing this article for 8174 minutes.  When my friends and I had dinner at Stagioni, the temperature was 20* and there was snow on the ground.  Today's date is May 12 and I'm listening to a spring shower through my open windows.
In Italian, stagioni means "season", which is an adorable coincidence since it has already taken me two of them to write this article.
Stagioni is a sweet little Italian restaurant in Bloomfield, Pittsburgh's Little Italy neighborhood.  Stagioni refers to the restaurant's commitment to preparing meals with ingredients that are naturally available based on, well, nature!  What a novel idea!  This appeals to me for a couple of reasons.  First, there is the obvious nutritional benefit of eating fresh foods.  Also, I like that Stagioni is committed to buying food from Pittsburgh's famous Strip District.
8218 minutes.
My sweetheart and I met up with friends Jason and Molli for a romantic double date.  The dining room at Stagioni is quite small, and the dim lighting provides a very intimate atmosphere.  At the table next to us, a young mom and dad enjoyed a sophisticated dinner with their two young daughters (who were dressed up in princess tutus and fancy shoes).  Sweet.  Unpretentious.
Each couple made sure to order the Made-to-Order Mozzarella as an appetizer.  I had heard a lot of talk about the fresh mozzarella, and when a restaurant is known for the awesomeness of its fresh cheese, I gotta go!  The mozzarella arrived still warm to our table.  Accompanied by thin slices of prosciutto, roasted red peppers, and a drizzle of both olive oil & balsamic vinegar, this was an antipasto to be savored.  It was amazing!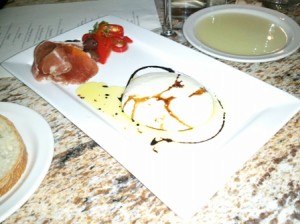 At Stagioni, you may be interested in a vegetarian dish, a seafood dish, or some kind of crazy multi-meat extravaganza!  I absolutely loved my Bolognese with thick pappardelle pasta!  The Bolognese sauce was a flavorful blend of spices, vegetables, and meat.  What a wonderfully hearty, comforting dish!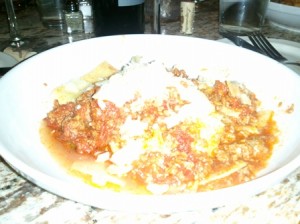 We all enjoyed our dishes at Stagioni that night.  My friends enjoyed fresh vegetables and pasta and seafood, like shrimp and calamari in their meals.  The boys talked, the girls talked, and we drank two bottles of wine (Stagioni is BYOB!)
It seems odd to mention the restrooms, but I remember taking note of the charming uni-sex restroom at this restaurant.  Patrons must go downstairs into the restaurant's basement (which looks and feels like any other basement in Pittsburgh) to use the one-at-a-time facility.  It's quaint.
It has taken me 8252 minutes to write this article, and in it, I've used words like adorable, sweet, unpretentious, flavorful, fresh, charming, and quaint.  These are the highest marks I can think of.  I love Stagioni and I look forward to going back…soon.  You know, hopefully in the next three months.