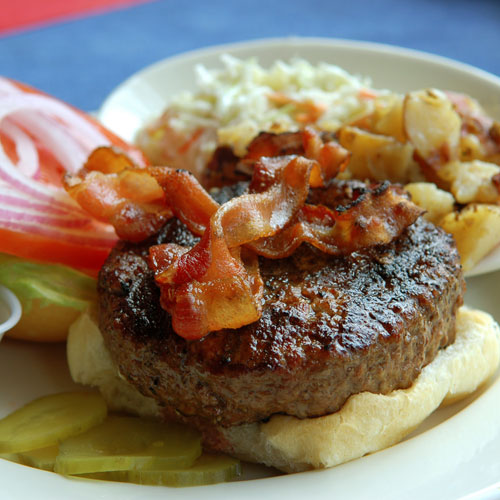 Char-grilled burgers, big ones, that's what you'll find at Tessaro's in Bloomefield.  Besides having great hamburgers, Tessaro's has a rich history.  It's been around for years, and has enjoyed continued success.  The continued success can be attributed to the atmosphere, wood- grilled food, and the wait staff, many of whom who have been around for years.
Stop by Tessaro's for a hamburger if you haven't already, it's truly an experience to behold.  If you come on a Friday night, you can expect to wait for a while.  It's even difficult to get in the door, because the bar is along the right side (as you enter) and hungry hamburger-eaters, and bar patrons are busy washing off the work week.  Tessaro's attracts an eclectic crowd; there are all types of people enjoying the interesting atmosphere that Tessaro's provides.  Expect to smell smoke when you walk in, and plenty of it.  There is ventilation in Tessaro's, but I imagine it's not as effective as it could be.  The benefit of the lack of ventilation is two-fold, first, it prepares your taste buds for tasty char-grilled meat, and secondly, it acts as cologne so you can reminisce about your meal a full day later.
Tessaro's is a small establishment.  You'll have to squeeze around tables and people to get to your seat.  It's not a quiet place either, but that's ok.  It's kind of fun eating next to the people that share the same affliction you do- the need for a good burger!  The servers are good at their jobs, they have to be in order to keep up with the large crowds that pact Tessaro's during the week and weekends.
I always order the cheeseburger ($8.25) with cheddar.  It comes with slaw and home fries if you want both.  I always order my burgers medium rare; that's the perfect temperature for me.  When you bite into your first Tessaro's burger it's a fantastic experience.  You can taste the grill history, i.e. the proteins of the grilled past.  A burger cooked on a grill that has been seasoned for years is much different than eating a patty of meat from a flat grill.  The meat is succulent and delicious. The bun is soft and fresh, and the home fries and slaw perfectly complement each other.  If you're not up for a burger, try the Filet Mignon, ($25.95) New York Strip Steak ($23.95), or the Pork Chops ($14.95 for a half cut, $20.95 for a full) or a half Grilled Chicken ($15.95).
If you're a Pittsburgher, and haven't tried Tessaro's it's time to take a trip to Bloomefield.  The atmosphere, and hardwood grilled food will keep you coming back for more.
Tessaro's, Pittsburgh 4601 Liberty Avenue Pittsburgh, PA 15224-1922 (412) 682-6809