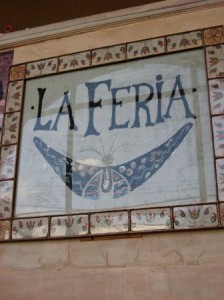 There's a small restaurant above Pamela's in Shadyside, by the name of La Feria. Climb a small set of stairs, walk past the Latin American souvenirs, and you'll come up a small dining room with chairs. The odd placement of La Feria makes it almost unrecognizable as a full-service restaurant.
Small wooden tables were scattered throughout the eating area; there aren't many seats available at La Feria, maybe 30 in all. Service was good the day of our visit, and we were greeted warmly as we arrived. As we sat down, I was still a bit perplexed at the design and layout of the restaurant- the flow seemed less than cohesive, but nonetheless, was working. I became distracted as I looked over the menu; there were customers shopping in the crafts and gallery section of the store that were secretly trying to get a glimpse of the food diners were enjoying.
The food at La Feria is described as "a fusion of Peruvian and Latin American fare." Some of the offerings are, Camotes Fritos (sweet potato chips with spicy huancaina dip, $5.25), an appetizer platter that includes your choice of two empanadas with Peruvian dips served with bread and sweet potato chips for dipping ($9.95), Ropa Vieja, a shredded beef sandwich served with sweet potato chips ($7.95), Especial De Frejoles (a hot black bean salad served with garlic rice, and french bread ($9.95), and the Combinacion, ($12.50) served with your choice of two specials, served with La Feria's garlic rice and French bread.
Our food was excellent- the chicken and beef dishes weren't over-cooked, providing plenty of flavor and moisture to the meat. Our salads were fresh, with plenty of lettuce, veggies, and a delicious house dressing. The French bread was soft and warm, and the rice had just enough garlic, but not so much that you needed a piece of gum afterwards.
La Feria is a perfect lunch spot if you find yourself shopping on Walnut Street. The food is uncomplicated, yet flavorful. If you have to wait a few minutes for your table, browse through the store, you just might find that special gift you've been looking for.
Chef Chuck Kerber
Cooksandeats.com
chuck@cooksandeats.com
photo: eatingregiment.com