Lidia's, Pittsburgh, PA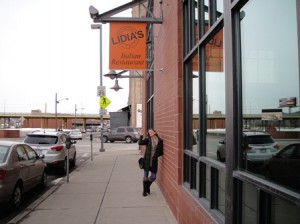 Lidia's, Pittsburgh, PA
Brunch is a nice way to end the weekend; you can gorge yourself one last time on food, spend some extra time with your family and friends, and even rationalize indulging in an alcoholic beverage.
On the last day of her visit, my sister (who lives in Boston) suggested that we go to Lidia's for brunch. Wait, Lidia's in the Strip has brunch? They do indeed.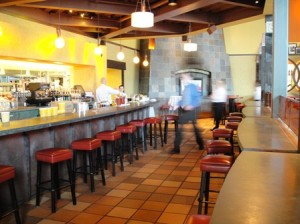 Lidia's early Sunday meal is called The Market Brunch, and is served from 11:00am to 2:00pm. The cost of brunch is $25.00 per person, and $8.00 for children. Before you cringe at the price, let me tell you what's included.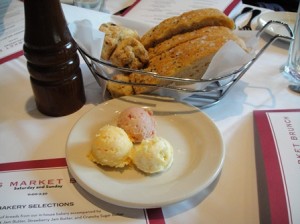 Upon seating, we were given a fresh basket of pastries that included different varieties of scones and focaccia, all made in-house. The bread and pastries were served with apricot jam butter, strawberry jam butter, and crunchy sugar butter. The scones were bite-sized and moist. The outer shell was crusty, and lightly coated with thick granules of sugar. The focaccia was equally delicious with its heavily salted crusts and moist center.
As we were enjoying our bread, the waitress appeared and took our drink orders.
"Included in your brunch price is a complimentary mimosa or bloody mary," she said. After we made our cocktail selections, water, orange juice and coffee were served.
Here's how brunch at Lidia's works. Besides having a large buffet-style brunch table, you also get to order one entrée of the menu. Some of the entrees include seared salmon, tenderloin of beef, gnocchi with duck, octopus, chicken scaloppini, and wild boar raviolis. The most popular dish on the brunch menu was the pasta-trio served tableside. Included in the pasta dish were rigatoni, ravioli, and linguini. The most attractive aspect of the pasta trio is that it's never ending- that's right, unlimited refills!
After we chose our entrees, we made our way to the buffet table. It was covered with different salads, frittatas, fruit salads, pastas, and other antipasti- my favorite was the Caesar salad; it had plenty of anchovies, parmesan cheese and homemade croutons. On the far side of the table was a large selection of desserts; more on that later.
Our entrees arrived, and we dug in. I ordered salmon, medium, which arrived perfectly cooked and seasoned. The tenderloin of beef came, and I was surprised at the large portion. The beef was ordered medium, but when we cut into it, was clearly rare. The potato gnocchi with duck were fluffy and light, with moist strips of poultry, and finished with a sweet red sauce. My step-dad ordered the pasta trio which was tasty, and thankfully, not over-cooked. The chicken scaloppini came with a tangy lemon-caper sauce. The chicken was sautéed, tender and juicy.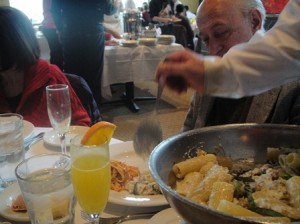 After our plates were cleared, it was time to go take a look at the dessert. Panna cotta, frosted brownies, fresh fruit, and homemade cookies were among the selections. The one dessert missing; tiramisu! I asked one of the servers where it was and she said, "There is no tiramisu right now…" Talk about an ambiguous answer! I know that there's no tiramisu now, but will there perhaps be some in the future? No answer.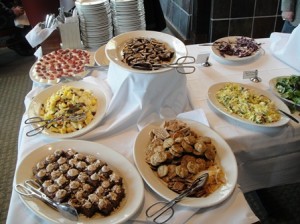 If you find yourself shopping in the Strip on a Sunday morning, and become hungry, try Lidia's for Market Brunch. The excellent service, fresh food, delicious pasta, and refreshing mimosas will surely put a smile on your face.
Chef Chuck Kerber
chuck@cooksandeats.com
cooksandeats.com